Photos 2008
Wins & Brage for the Year 2008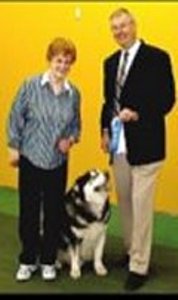 We are so proud to announce that in October, at the CARO rally trials under judge Brian Smith at K-9 Studio. "Tye" our 8 year old Alaskan Malamute, was awarded two additional qualifying scores of 186 and 193 to earn his RNMCL title. It was a fun and rewarding weekend for us. The courses were challenging, yet fun - great for someone like me who got dizzy doing a couple of stations but "wobbled" through. In two previous trials under Judges July Miller and Lynn Beilhartz, he had also earned two qualifying scores of 193 and 192. To my knowledge, he is the only Malamute locally to have earned this title.
Thanks to Brian, it was a pleasure to participate. Thanks also to our instructor, Diane Connelly and part time instructor, Heather, who patience with us paid off. I must also add a note of thanks to Carolyn Homonko, who arranges the trials and her helper Karen. I would like to express my appreciation to CARO for consideration given to dogs and people with disabilities.Tye now has Titles at both ends and we're working on more -

CH Keikewabic's Tyetu Ebony Echo, TT, CD, RNMCL

Eleanor Stewart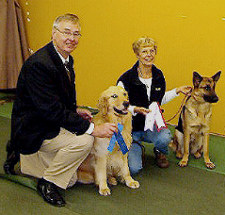 It was truly a pleasure to be judged by Brian Smith in the October Trials held at K-9 Studio in Thunder Bay, Ontario.
It was even more special since my three year old Golden Retriever, Bailey, attained his RNMCL title and my 1 1/2 year old German Shepherd, Maggie, attained 2 legs towards her RN title, her first time in the ring.
I am a CARO instructor at the K-9 Studio and it was with pleasure that I watched and admired my students with their dogs as they negotiated the courses, were successful and earned Titles. They have all worked very hard and made me proud to be able to say they were my Students.
Diane Connelly
September 2008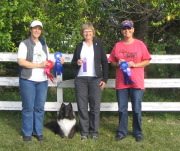 Greetings from Winnipeg

Just came across this picture of our CARO trial in September of 2008 in Brandon, MB.

This is Suzie, my 8 years sheltie and I with our esteemed judges, Renee Will and Laurie Albright. It was beautiful September weekend on the grounds where the CARO trial was held. Suzie and I attained our RE that weekend with scores of 200 & 194. We are looking forward to another fun weekend at the upcoming Brandon trial in June.

Betty Scott with Suzie
June 2008
My dog Abby and I were able to earn our RAMCL on April 12th at Superdog Central in Bowmanville. We completed all 3 legs in 1 day with 3 first place finishes. I can't even tell you how proud I am of my Abby. She did an amazing job. What makes it all the more special is that we just started training again at the end of January after a serious health scare last November where she became paralyzed and unsure she would recover. While I'm so proud of her achievement, I'm equally as thrilled to have a healthy dog! Yay Abby!!!

Kelly Wood

In March 2008 my Standard Wire-Haired Dachshund Johnny finished his CARO Rally Excellent title "MCL", making him the first Dachshund in Canada to complete this title. He is now Ch.Withensea Johnny Thunder CD TD CGN RL1 RXMCL.
Proud owner is Lindy Wiebe of Grande Prairie, Alberta.

This is Winston at the February 2008 Caro Trials held in Lively Ontario (Sudbury and District Kennel Club). Winston is my third Cairn Terrier to earn titles in CARO, but is my first to earn a High in Trial award. I am so proud of Winston who is just 1 and 1/2 years old. We all love rally and hope to keep earning titles. Thanks to all the instructors who have helped us attain this goal. Thanks to the judges that recognized Winston's skills that he likes to occasionally hide behind his terrier antics.

Linda Chafe and the Cairns....
Ch. Timberlock's More Than A Feelin PCD RN CARO RNMCL... AKA Winston
Ch. Timberlock Cold As Isis Am I PCD CARO RNMCL....AKA Isis
Take A Chance On Me CD RN RA CARO RNMCL RACL...AKA Chance
April 2008
Pictured is standard poodle Tessa, (Linden's Country Girl) with owner Robin Burkimsher, winning her Rally O Novice title at the Super Dog Central in Bowmanville on April 12. This was Tessa's first trial. She was first second and third in her classes. Thank you Tessa for taking a very tired and rookie owner through the paces. Thanks to the judges, Joan Reid and Bonnie Christie and the staff at Super Dogs for wonderful learning experience and to Who's Walking Who.
Tessa is a dream girl and only 1 1/2 years old.
Special thanks to Lorraine Deschenes of Linden Poodles for breeding Tessa and entrusting me with such a wonderful girl. Tessa came into my life and helped me so much so much after losing suddenly my beautifull Nicky( Sanvar Bellefleet.In the Nick of Time),my first standard poodle.
Support Poodle Rescue!
March 2008
I and my dogs have enjoyed participating in Caro. I was so pleased when my Cymba (Dog Id # D05-1125)received his Rally Advanced title. What an accomplishment it was since Cymba was 13 1/2 years old at the time. The certificate is very well done and I appreciate the quality of the paper it was printed on. Thankyou for sending it to me. It is so heartwarming to see that Caro cares about the older dog and provides opportunity for them to participate by adapting some of the rules for them.Cymba was so proud of himself as he made his way through the courses.I am proudly adding his certificate to his second binder of accomplishments that I have made to remember him. Three weeks after his last trial, Cymba passed away and I always will have the warm memory of this last happy trial.
Sandra Allard