Photos 2009
ARCHIVE 2009
Send me your pictures and brags of your CARO triumphs
Our First Master Champion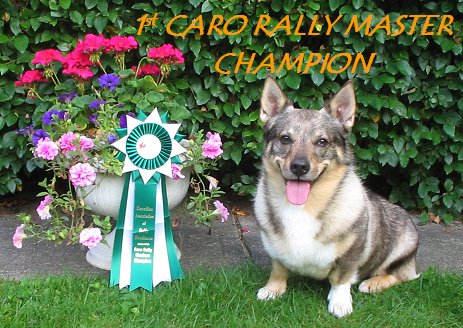 On November 8th, 2008 Niki and I competed in our third trial in the "C" Stream and completed the final legs required for the 'CARO Rally Master Champion' title. Niki is the first dog to earn the CRMCH Title! (as confirmed be Bev Hurst) It was made even more special as many of our rally friends were there to share our exciting run. Over the three trials Niki earned twenty five out of twenty six legs and a total of twelve 200's! What a wonderful time! I am so proud of my boy and all that he has accomplished.
Nikki is pictured here with his CARO titling ribbon.
Heidi Kadoke
April 2009
This is my shih-tzu Sophie finishing her CARO Advanced title CL, with second and third place wins, at the April trials at Partners Naturally, in Grande Prairie, Alberta. Proud owner is Lindy Wiebe.


Thanks
Lindy
May 2009
CARO Trials in Kelowna
Spartacus had 2 consecutive successful weekends at the Mt Baker AKC and Kelowna CARO trials: out of 11 obedience and rally obedience events entered he earned 9 first placements and qualified in all 11 with scores above 190/200 in all events and an average score of 196/200. At the CARO rally trial in Kelowna Spartacus qualified in all 7 events with scores of 195 or above, earning 6 first placements and his Excellent MCL, Novice Team MCL and Versatility MCL title
Spartacus with judge Brian Smith, after earning one of his 3 rally titles at the Kelowna CARO trial.
Judge Brian Smith with Spartacus and team partner Sophie - thanks to Sophie and Dana for partnering us to the Novice Team MCL title with a titling score of a perfect 200. (One would like to believe the absence of the judge's pristine navy blazer on the 2nd day of the trial had nothing to do with Sparty flinging drool 20 paces ...)
May 23 was our very first CARO trial held in our beautiful home of Kelowna, BC. It was tons of fun. Tux finished his Novice title and received two second places. We moved up to Advanced and got one leg and tried Novice team, getting a leg in that as well. We're looking forward to our next CARO trial. Thanks so much to everyone making it a great, fun weekend.
Tux, with Brian Smith finishing his Novice title.

Michele Shaw
These are the succesful Novice Teams at the CARO trials held in Kelowna.
Greetings from Winnipeg Manitoba,

We are excited to share our news of entering Manitoba's first Rally Team completion and taking first place with a score of 196 in Winnipeg Manitoba on May 10, 2009 under our esteemed Judge, Renee Will. Our scores were tied with a fabulous working team from Brandon, Manitoba with a few seconds difference in our scores.

Thank you for allowing us to share.

Bev Trudel with Jazz
Betty Scott with Suzie
August 2009
These are my American Cocker Spaniels (Smudge left and Cider on the right). Smudge finished his RNMCL title this weekend with his third 2nd place finish. Cider finished her RXMCL title with two 2nd places and a first place. I'd like to thank The Poodle Farm for such a wonderful weekend to wrap up our two titles.

Laura
November 2009
Here is a pcture of the magnificent scenery at the first ever COUNTRY CANINE CENTRE trial , held outdoors, in Kaleden, BC, in November 2009.
Pictured is Lora and FINN running an Excellent course.
LEXI achieved her Rally BRONZE and GUS (GSD) achieved his ADVANCED title. at the Country Canine Centre trial. Owned by Carrie
Here is one of the two TEAMS that received their NOVICE TEAM TITLE at the Country Canine Centre trial, Ripley and Finn. Tuxedo and Cally also completed their TEAM TITLE
Judge Cindy Cerne with some of the canine competitors, LAWYER achieved his Novice title, FINN, Advanced and Novice Team title, CHASER, CARRY and LEXI (Standard Schnauzer ) on top who achieved her BRONZE.
Bear, my Border Terrier, got her Versatility title.
Mitsy, my Mini Aust. Shepherd, go her C Stream Bronze Title.

They both had a good day.

Thank you
Brenda Maybe
e

November 29th, 2009, Clara Theiss and her Australian Cattle Dog, Badger, aka "Bad Dog" obtained their CARO Rally Masters Title at SuperDog Central under judge Brian Smith. Clara and Badger were one of the first teams to enter the "C" stream of competition offered by CARO, obtaining their first "C" leg in April 2008, attending only 6 trials to achieve the 20 legs needed for the Master Title. Badger came to Clara as an eighteen-month-old rescue from Ann Arbor, Michigan. At the young age of 18 months Badger had already lived in two other homes, 2 shelters and Second Chance Cattle Dog rescue before being adopted by Clara. Badger came with absolutely no skills or manners. The first time Badger was taken for a walk, 20 minutes was spent at the end of the driveway trying to teach her not to lunge and bark at the passing cars. The walk never progressed off the driveway that day. Some would say that working with a clean slate is easier, however an 18-month-old cattle dog with no previous "human" bond or respect is not a good thing. Over the years, a bond between handler and dog, as well as mutual respect was developed. Badger cannot be made to do anything she chooses not to, BUT she can be manipulated into thinking it was her idea. Two weeks after her Rally achievement she earned her AAC Agility Lifetime Award of Merit at Royakers Kennel Agility Trial. Badger has proven that have patience and being creative when dog training does pay off.