Photos 2014
Wins & Brags for the Year 2014
CARO Congratulates Dian McTaggart & Cody
Cody (Reach for the Stars) earned his Novice MCL title at The Summit
on Aug. 10, 2013. Cody did a fantastic job to earn his Novice title in one day.
CARO Newcomers Lisa Mayes & Lewis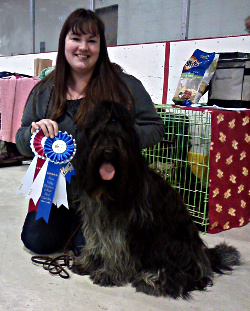 Lewis (CAN CH / CFC Elite CH Stonepillar's Aloysius CGN RN NCFT) earned his Rally Novice title (CRNMCL) in April at the RVO CARO Trials in Fredericton, NB. He finished in three trials, earning a first and second place, and also earned his first Advanced leg and first in his class in Trial 4.
Lisa and Lewis are off to a great start in CARO.
Debbie & Chablis' Excellent Adventure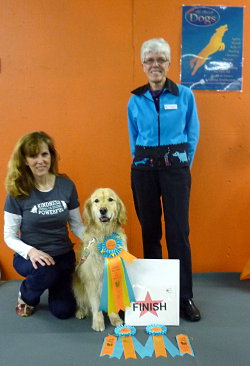 Debbie says she always knew that she had an Excellent dog. Now Chablis has the title to prove it - a new Excellent title in CARO Rally-Obedience. And she earned some very, very nice scores of 200, 199, and 197, making it an MCL title.
Congratulations to Debbie Browning & Chablis.
Thanks to the Poodle Farm from Julie, Happy & Brio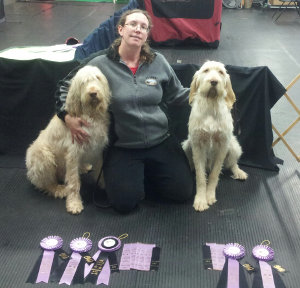 Julie Dorney wants to say thank you to Deb and The Poodle Farm for hosting such a fun and stress free place for RallyO fans. This past year and a half Brio and Happy have earned all of the CARO titles at The Poodle Farm. Happy, only just having his 2nd birthday, has earned his Advanced and Brio has just earned his Versatility and Bronze titles. I'm very proud of my boys. What a great way to end for a mandatory break too add our second human child in just two months time. Thanks again and Happy holidays!