Photos 2006
Wins & Brags for the Year 2006
Julie Wright and her Rottweiler, Santana have completed their Rally Novice (RNMCL - Rally Novice Magna Cum Laude) and Can CD titles in back-to-back weekends in November 2005.
Santana is now looking forward to Rally Excellent!
Santana is now known as: CKC CH pointed Braxenburg's Gypsy Queen Can CD, RNMCL, CGC, UCC. Many Thanks to CARO for such fun events!



Submitted by Dianna Contin

"D

ale", a young Rottweiler owned by Marla Brent picked up his first 2 legs for his Rally Novice title in November 2005, (also winning First/Second Place in Novice A) at the age of 10-months!




This was Marla and Dale's first introduction to obedience trials and they did remarkably!




'Dale' is now known as

Zebi's Little Drummer Boy Can CGC, CGN.




{Dale is a son of Donnie Brasco, pictured below}





Submitted by Dianna Contin

Donnie completed his CARO RNCL title at the Tollhaven Learning Center & Campaign Dog Academy trials on September 10 & 11, 2005 in Georgetown, ON. His last trial netted Donnie a 3rd place in class win in Novice B! Donnie is 7.5 years old. :o) Onto Rally Excellent! Donnie was handled by his breeder: Dianna Contin and owned by Linda Wood.

Donnie is now:
U-CD Multi V-Placing, Multi Group Placing, Multi AOM BOSS Can/UKC CH Braxenburg's Donnie Brasco, Can CD, N-CD, RNCL, Can CGC, HICs, UCC, TT OFA Good @ 70-mos, CHIC#19681, OFA Thyroid, OFA Heart, CERF, OVC Hips/Elbows
Thanks
Dianna Contin
February 2006
Phoebe the Beagle is loved and handled by Stephanie Hounsell; Phoebe earned her Novice MCL title in three straight trials in 2005. We are now working on our Advanced Title, but the food is creating quite the challenge for the very food driven scent hound. As far as I can tell from searching the CARO site Phoebe is the first and only Beagle to earn a CARO Rally Title. Phoebe also has titles in CKC, AKC and NADAC Agility, and qualifying runs in AAC Agility. Phoebe is the #1 Beagle in North America in Flyball, and the first Beagle to achieve the ONYX and FGDCH titles We also have 2 qualifying runs in AKC rally obedience. Phoebe is a well rounded beagle who enjoys working, and competing Thanks CARO for creating such a fun organization where all dogs can compete!
Stephanie & Phoebe
Jennifer May and her Aussie Gryphon ( Aimhi's High Flying Gryphon CGN RNCL) completed his Rally Novice title (RNCL) November 2005. Jennifer would like to thank Linda Barton for the wonderful Aussie we have in Gryphon, Thanks for all your support.
Gryphon is looking forward to Rally Advanced already receiving his first Advanced Q at Campaign in Jan, 2006
March 2006
Being new to Rally-O I entered my golden retriever "Mack", who is 9 years old, in his first trial at Maitland, Ontario in March 2006, where he managed to get 2 legs in Novice. We had to wait until July in Petawawa where he got his third leg in Novice. He now has the title of RNMCL, a feat which brings about a lot of pride in my best friend.

As well, we entered the Advanced level and managed to pick up 1 leg after two previous tries whereby Mom was very nervous but managed to settle down by the third try.

Odette Van Vlaardingen

At the TIKO Rally trial on March 4th, 2006 Saxon (Samantha's Gold Saxon) achieved his Rally Novice CL.
Submitted by Sheila Casey, proud mother
April 2006
Congratulations to Sabrina Suede (Therapeutic Paws of Canada member) for achieving her Rally O Advanced title Cum Laude at the TIKO trial held in Maitland in March 2006. Sabrina successfully negotiated 3 sets of food bowls to obtain this title. No easy task for a Labrador with a healthy appetite.

Mom is very proud of her girl !!!

Mom – aka Dian McTaggart
May 2006
Hi!
I'm pretty new to Rally (LOVE it!!!!) -- I've just been to one trial with my Berner boy Wolle where he earned 2 RN legs. My brag comes from the U.S. National Bernese Mnt. Dog Specialty show held recently in Frankenmuth, MI. It was a super week all around!! Both Wolle and my veteran girlie Aeryn (8 yrs. young) earned their 1st AKC RN legs!! It was Aeryn's first time ever in a Rally ring and she would have won the class if her Mom (me!) hadn't gotten turned around on the course and lost us 5 pts. As it was, Aeryn placed 5th & Wolle was 6th in a class of over 30 entrants!!! Our lovely brag picture is attached -- Wolle's the big studly guy, and 'Ryn the angelic looking Princess. Further brags from the show was that Wolle & I were part of the 2nd place Team Obedience group (our theme being the RCMP Musical Ride! what a hoot, the dogs wore little saddles!!!!!). And then Wolle finished out the week by winning his conformation class!!!! I pretty much floated home ......!!! sue
Simcoe, ON
looking forward to more Rally trials this summer & fall!!!
July 2006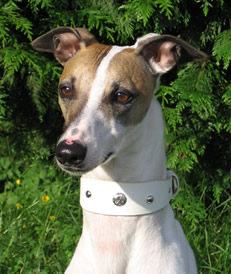 Ch. Capetown Cosmopolitan CD FCHX OTRM SR CGN He just earned his Novice CL title, making him one of the first (possibly the very first) whippet to ever earn a Canadian Rally-O title. Cosby is completely clicker-trained and has never worn a choke-chain. Cosby suffered a permanent injury at the age of 3 which required his retirement from racing, lure-coursing and conventional obedience as his vet has prohibited him from running or jumping. Thanks CARO for offering an obedience venue in which physically disabled dogs can participate! Cheers, Lorraine Andrusiak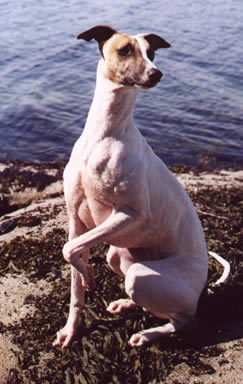 August 2006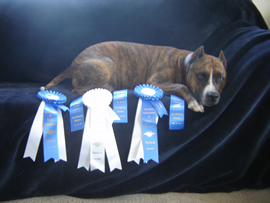 Arlo did VERY well today in the Rally-Obedience trial! He received two first places and a fourth! He earned the RNMCL title! He received two 194's and a 190! I also believe he is the first American Staffordshire Terrier in BC to acheive a Rally title
Arlo, originally was an unclaimed stray at a shelter and I was fortunate to have Hugabull Advocasy and Rescue Society adopt him to me. Along with Rally-O we are also starting to compete in agility, competitive obedience, and tracking. We strive towards changing the public's perception of a truly wonderful, intelligent, loving and diversified breed.
Markeydas Arlo CGN RNMCL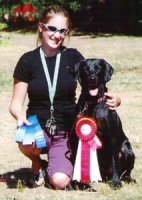 Hi - I thought I would finally send in our rally-o brag! I adopted my dog Tyler from Vancouver Animal Control about three years ago. He is a small black lab who was a stray and had severe seperation anxiety. We worked with him for over a year before he could stay home alone but he is doing much better now. Tyler is also scared of new people, but is slowly getting more comfortable around strangers. Last August we got our Rally novice title in Burnaby and I was so proud of my boy. He got four Q's that day; one for every run! He has overcome so much and loves doing rally-o. I never thought he would be comfortable out in public let alone competing in a dog sport. He is a wonderfull dog and we look forward to working towards our advanced title as Tyler and I both enjoy Rally-O. Thanks a lot, Erika Nassichuk
September 2006
I entered three NKC Rally Trials in September with my Belgian Malinois, Ryker DuMarais CDX. For our Novice legs we received scores of 196, N.Q, and a 200! My apologies to Ryker for finishing right when we were supposed to finish left and earning us the N.Q. We are now looking forward to finishing Novice and moving up.
Being new to Rally I was impressed with the camraderie of the competitors and professionalism of the judges. Thank you to Everybody who made this such a great day. A special thank you to, CaroleAnne Brown for convincing me to enter the trials and introducing me to such a wonderful dog sport.
Jerrilynn Harris
There is now another Beagle that has earned her Novice MCL.Pricey who is handled by Ivy Seney, entered her first Rally trial Sept 16th held by the Nanaimo Kennel Club. Much to my surprise, she earned Qualifying scores in each of the three passes to achieve her Novice title. Pricey also enjoys Agility and is working toward her Atch. She currently holds her SMAD, SMasters Gambler & Team Titles and 6th Place 10 in Specials BC Yukon Regional Champion. Now that we are in Advanced our difficulty will be ignoring the food (!!), something very closed to her heart! We are looking forward to the challenges that await us. I would also like to say Thank You to Heather Somers for helping to getting us here. Ivy Seney Campbell River, BC

.

In Nanaimo, BC, Silky Terrier Ch., Coans Forever Young, TD, , CDX, CGC, CGN, HIC, FDNT, ,FDN, AG.I, VADC, NAC-V, Am.CD, RA,cl, AgJNS. 'Pasha' earned her Rally Advanced title. Pasha, at the age of 14, is in semi-retirement, but still likes to get out and play.

Also, at the same trial Border Terrier Ch. Elwha Hartagold at Coans CGN. FDNT, AgN., RNcl, "Harta' earned his Rally Novice title.

Both dogs are owned, trained and loved by Heather Somers

On September 16th, in Nanaimo, B.C. Kisncairn Copper Teddy CDX.CGN.CGC., a Cairn Terrier, earned his Novice Rally title (RNMCL) under judge, Pat Krebs, at the tender age of 15 years. Way to go Teddy. Owned and loved by Carol S. Toms
November 2006

On the weekend of November 24/26, 2006 in Grande Prairie, Alberta, my two dogs Johnny (standard wire-haired dachshund) and Sophie (Shih-tzu) finished their Rally Novice titles. Both completed their titles MCL, and both earned first placements, Johnny with a score of 199 and Sophie with 196. Johnny also passed two legs of his Advanced title. Johnny is now Ch.Withensea Johnny Thunder CD TD RNMCL, and Sophie is Matsutake Sophia RNMCL. Proud owner is Lindy Wiebe, pictured with judge Marion Jobson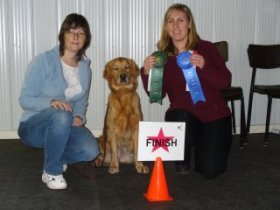 A Rally League of our Own (London, ON) hosted our very first CARO trial on Saturday, 25 November 2006.
Lori Nutt and her Golden Girl "Jeanie" are shown having just completed their Novice title under Judge Anne Douglas. Others who finished their Novice titles during the trial include Susan Wilkinson and (Bernese Mountain Dog) Wolle, Jean Brown with (Black Russian Terrier) Rusah, Margaret Gelinas with (Black Labrador Retriever) Jack and Pat Wojcik with both Dexter (Mini Schnauzer) and Spirit (Sheltie). Our HIT winner was Eleanor Heagy and (Belgian Shepherd) Biesca.
Everyone competing (and our spectators too) had the true spirit of Rally! Congratulations to those who had the courage to enter their first Rally trial - to our Judge Anne Douglas for her professionalism (and words of encouragement), and to our volunteers without whom the trial could not have run so smoothly. Our gate steward did an excellent job - and she was only 7 yrs old! Way to go, Devon!
Looking forward to hopefully seeing you at some of the events we have planned next year!" We may be a small group, but we are busy!
The gang from A Rally League of our Own.