Photos 2013
Wins & Brags for the Year 2013
CARO congratulates Virginia Davies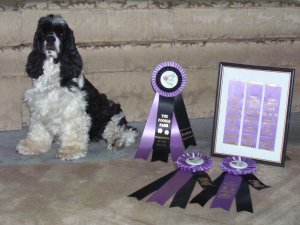 After earning her CARO Novice MCL, Novice Team, and Advanced MCL, Lizzie has now earned her Excellent CL title in October 2013 along with a 2nd and 3rd place. She loves to do the jumps, weaves and tunnels and I look forward now to doing her C Stream Bronze title. A special thank you to Debby DaCosta for all her expertise as we earned Lizzie's title and a noted appreciation to all those who assist with the wonderful trials at The Poodle Farm.
Pictures from the Rally Connection trial
CARO congratulates Kathleen Cullen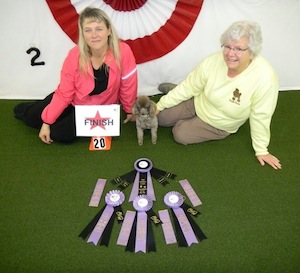 We had a great day at the CARO trials at The Poodle Farm. After not being in the ring for two years, Autumn took three first place finishes (including one perfect 200 score) to get her Excellent title MCL.
CARO congratulates Debbie Browning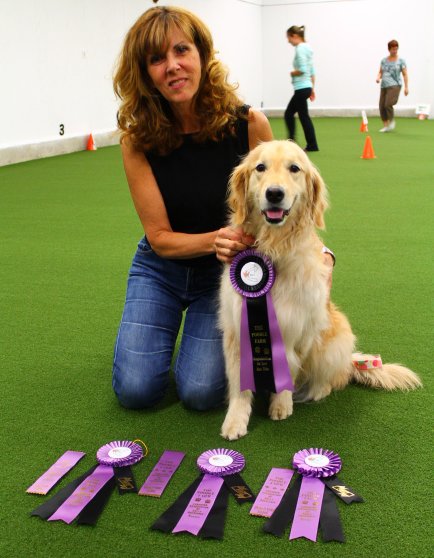 At our very first Rally-O trial, Chablis and I entered three Novice A runs and qualified in all three, earning her Novice A title in one day. Not only that but she came in first in all three. AND in her third run she earned a perfect 200 score. What an awesome day!
CARO congratulates Chantal Rioux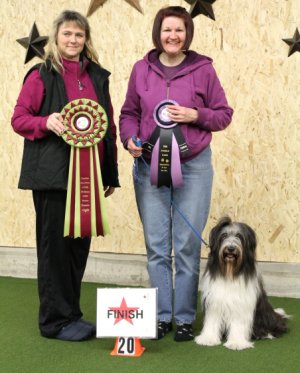 Sushi completed her Gold and Master Champion level on January 27th 2013.
Sushi started competing in CARO in August 2008, as she enjoyed Rally, especially the higher levels with jumps, tunnels and weaves. Once she completed her Silver level in November 2011, I did not think she could ever learn to work on the right, to start on Versatility, as she worked all her life on the left, in obedience, etc... I would like to thank Debby DaCosta, who was instrumental in teaching Sushi and I the Versatility level, Sushi's Gold and Masters would not have happened without her! Now Sushi is on the Working level!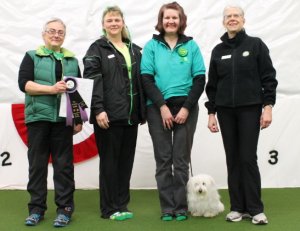 Cashew is the opposite of a "working dog", anyone who knows him is aware of how much work I determination was involved to get him where he is! Hence the number of judges on his Silver title picture! Numerous times, he would just opt self reward and run in circles in the ring rather then do the exercises with me. Cashew started competing in CARO in March 2009, had many "retirement" moments, like when it took me one year and a half between his first and 2nd Advanced leg! However, on March 17th 2013, he finally obtained his Silver Level, unbelievable! He was entered 2 times in Excellent that day and hit his title in the first run, I did the 2nd run regardless, and he got an even greater score! I was saying at 12 years of age, and the amount of work it has been, that he is now "officially" retired as I accepted his ribbon....but I think he is telling me he wants to go on? Should we try Versatility?
CARO congratulates Mary Monteith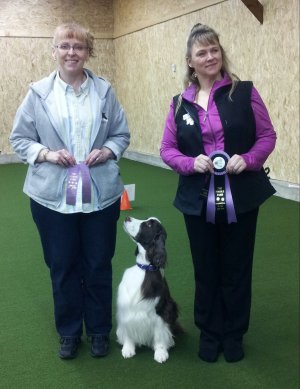 I am so very proud to report that my English Springer Spaniel, Elliott, who has been off for several months recuperating from an injury, has returned to competition and on April 7, 2013, finished his Silver Championship title and had an amazing day, scoring three perfect 200s and a 199 in his runs, along with a full leg towards his first Working title. Thank you so much to all the folks at The Poodle Farm for running great trials, with a fun and companionable atmosphere!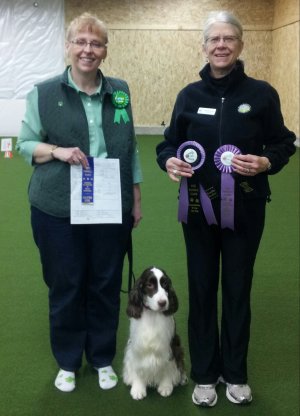 So far in 2013, Sadie has earned 4 new CARO titles! I am very proud that after only learning Versatility exercises starting in the fall of 2012, Sadie quickly progressed through and earned her CRVMCL and CRVXMCL titles very quickly, finishing her Versatility Excellent title on March 17, 2013 with the final leg under judge Brenda Zeng. Thank you to Debby DaCosta at The Poodle Farm for her encouragement and instruction in the fine points of Versatility!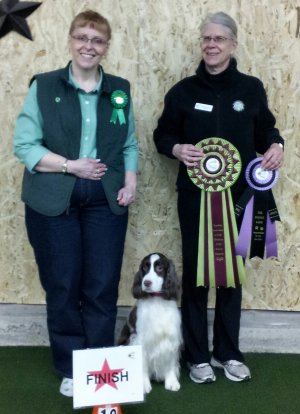 I am very proud to report that Sadie earned both her Gold and Master Champion titles on March 17, 2013 at The Poodle Farm trials. Sadie has come so very far and has made me very proud of all her accomplishments in CARO. She's a great girl and I look forward to many more years of fun with her!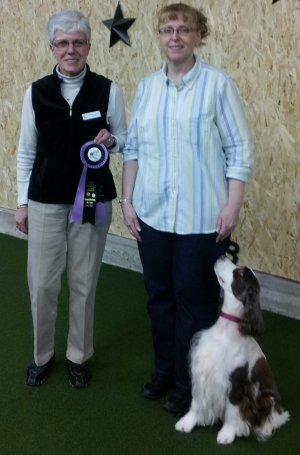 Sadie earned her CWR1 title on Sunday, April 7, 2013, under judge Bonnie Christie, and as far as I know, she is the first dog to earn a CARO Working title. I'm very proud of her accomplishments in CARO. We have worked very hard to progress to this point, and I'm so proud to have her by my side in the ring. Thanks go out to Debby DaCosta at The Poodle Farm for offering so many CARO trials and for her encouragement and enthusiasm for our sport. Mary Monteith
CARO congratulates Michele Shaw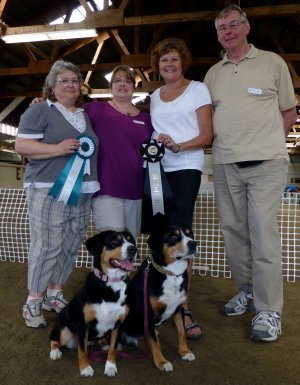 It made it special that we got our Silver at Lorraine's trial. We've been training with her from the start. And it was most special for me as the judge (Brian Smith) gave Tux his first Novice Q gave him one of his last Silver Q's.
Pictures are Michele. Anthea Young-Miller, Brian Smith with Ollie and Tux.